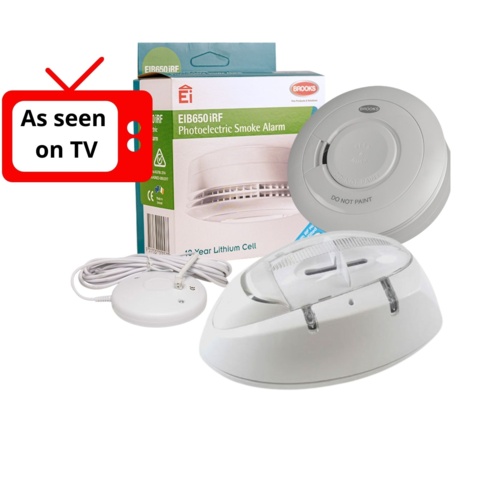 Hard of Hearing Bundle - High Intensity Strobe with Vibration Pad and EIB650IRF Photoelectric RadioLINK 10 -year Lithium Battery Smoke Alarm
This bundle is designed as your hard of hearing starter pack.
The EIB170RFAU can be either wall or surface mounted it is paired with EIB650iRF Photoelectric Smoke Alarm via RadioLINK™ the alarm system is designed to provide warning to the deaf and hard of hearing.
The bundle consists of EIB170RFAU control box with integral strobe and a plug-in vibration pad. It runs on 230V AC mains power with a built-in long-life sealed lead-acid rechargeable battery.
The vibration pad is intended to be inserted beneath the hearing-impaired person's pillow or mattress to wake them from sleep should an alarm event occur.
The bundle also contains one EIB650iRF which communicates wirelessly via its pre-installed EIB600MRF RadioLINK module with the EIB170RFAU and other compatible Brooks alarms and accessories. Up to 12 RF devices can be interconnected. As seen on TV - Click here to view
The EIB650iRF self-checks its chamber sensor, battery voltage and internal circuitry every 40 seconds. Any fault condition found will be indicated by a combination of Yellow LED flashes and sound beeps.
The alarm has a twist on mounting base which has multiple fixing points so it can be easily installed. The alarm is not powered until it is twisted onto the mounting base, thus avoiding battery power consumption during storage and prior to installation.
A$600.00
The high intensity strobe and vibration pad for Deaf and Hard of Hearing has the following features:
Stand-alone unit designed for use with RadioLINK™ bases & accessories
Integral high intensity Xenon strobe (flash rate 1.5Hz)
Plug in Vibration Pad
Wireless interconnection to RadioLINK™ units
Visual RF transmission and power indicators
Unique House-Coding
Rechargeable battery back-up with low battery power warning
Auxiliary sockets for connection of additional devices
1-year guarantee
The Brooks Photoelectric Smoke Alarm has the following features:
High performance Photoelectric sensor
Automatic dust compensation
AudioLINK data download
Wireless interconnect
Easy install twist-on base
Large easy to use test/hush button
Built in sounder - 85dB(A) at 3 metres
Conforms to AS3786:2014 and AS/NZS4268:2012 +A1:2013
5 Year guarantee
| | |
| --- | --- |
| Model Number: | EIB170RFAUWEB |
| Photoelectric: | |
| Heat: | |
| Ionisation: | |
| Carbon Monoxide: | |
| Mains Powered: | |
| Battery Back-up: | Rechargeable battery back-up |
| Battery Powered: | |
| Low Battery Warning Alert: | |
| Test/Reset Button: | |
| Interconnect Capability: | RadioLINK™ interconnection (up to 12 interconnected devices) |
| Warranty: | 1 year (limited) warranty |
| Approvals: | |
Related Information: