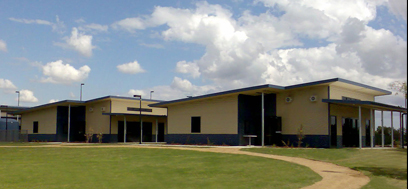 Brooks Australia were engaged by the electrical contractor, NRG Electrical, to provide a fire indication solution for installation with the new high security compound of the Brisbane Immigration Transit Accommodation Centre. The solution needed to take into consideration the existing networked system on site and working in conjunction with this upgrade, new equipment was being installed in a newly built Processing Centre on the site.
Working in close consultation with NRG, the aim was to provide a system that would provide the high level of protection required and included this installation as part of the existing networked system on the site. During the installation the teams had to overcome an issue where steam within the occupant quarters was setting off the smoke detectors when no fire was present. This was caused by poor ventilation during the install stage but with the involvement of Brooks technicians providing both on site and close technical assistance to overcome the problem by amending the panels software and utilising the alarm delay facility to reduce the potential for false alarming.
The use of a Brooks G3 Fire Indicator Panel (FIP), a 250W Occupant Warning System coupled with addressable smoke detectors, flush & surface mounted speakers and an array of strobe lights to meet the requirements of the client.
The ability to meet the projects tight schedule was a challenge, but we were able to finish the project ahead of schedule, resulting in a high-quality integration of a fire alarm and voice evac system.
Read more information on FTG31020 >>
Read more information on OWS250 >>