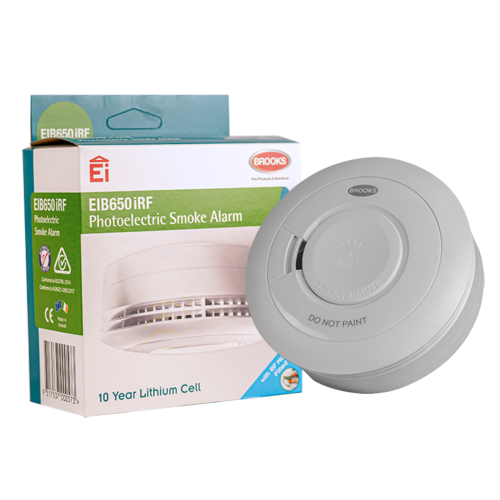 Photoelectric RadioLINK™ 10-year Lithium Battery Smoke Alarm with AudioLINK™
The EIB650iRF photoelectric smoke alarm is fitted with a proprietary photoelectric sensor to quickly sense low energy smoke particles. The EIB650iRF is a EIB650iW fitted with a EIB600MRF module.
EIB650iRF
The EIB650i range features a high performance photoelectric chamber protected by a sealed mesh screen to reduce insect and dust contamination and EMC protection to reduce false alarms. In addition the EIB650iRF has an automatic dust compensation feature reducing further the risk of false alarms caused by dust build up.
The EIB650iRF communicates wirelessly via its pre-installed EIB600MRF RadioLINK module with compatible Brooks alarms and accessories. Up to 12 RF devices can be interconnected.
The EIB650iRF self-checks its chamber sensor, battery voltage and internal circuitry every 40 seconds. Any fault condition found will be indicated by a combination of Yellow LED flashes and sound beeps.
The alarm has a twist on mounting base which has multiple fixing points so it can be easily installed. The alarm is not powered until it is twisted onto the mounting base, thus avoiding battery power consumption during storage and prior to installation.
The Brooks Photoelectric Smoke Alarm has the following features:
High performance Photoelectric sensor
Automatic dust compensation
AudioLINK data download
Wireless interconnect
Easy install twist-on base
Large easy to use test/hush button
Built in sounder - 85dB(A) at 3 metres
Conforms to AS3786:2014 and AS/NZS4268:2012 +A1:2013
5 Year guarantee
| | |
| --- | --- |
| Model Number: | EIB650iRF |
| Photoelectric: | |
| Heat: | |
| Ionisation: | |
| Carbon Monoxide: | |
| Mains Powered: | |
| Battery Back-up: | n/a |
| Battery Powered: | 10-year Lithium non-replaceable, non-removable |
| Low Battery Warning Alert: | |
| Test/Reset Button: | |
| Interconnect Capability: | Wireless (up to 12 interconnected devices) |
| Warranty: | 5 year (limited) warranty |
| Approvals: | AS3786:2014, AS/NZS4268:2012 +A1:2013 |
Related Information: