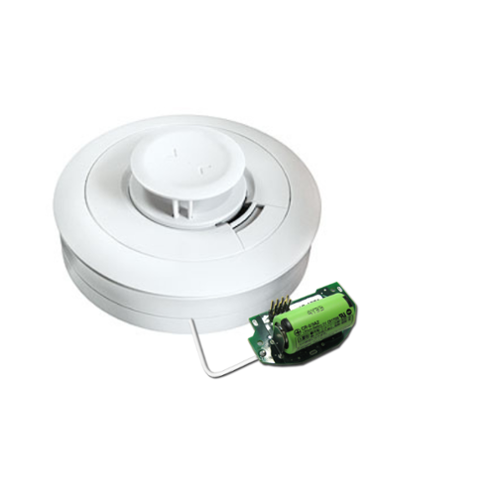 Heat Alarm with RadioLINK™ module (10-year Lithium battery)
The EIB630iRF alarm is activated by heat from a fire, not smoke, which makes it ideal for kitchen and laundry applications where smoke detectors could be prone to nuisance alarms.
The EIB630iRF is a EIB630iW fitted with a EIB600MRF module fitted.
EIB630IRF
The EIB630IRF has a 10-year lithium battery giving you peace of mind as no battery replacement is required.
The EIB630IRF must be interconnected to other smoke / heat alarms in the dwelling and along escape routes to ensure that all occupants have sufficient warning.
The Brooks Heat Alarm has the following features:
Practically eliminates nuisance alarms
Suitable for kitchens and areas where smoke alarms may be subjected to nuisance alarms
RadioLINK™ Interconnectivity – one alarm sounds all alarms in system
AudioLINK data download
Aesthetically pleasing, compact design
Battery capacity is sufficient to outlast the useful lifespan of the alarm
Large easy to use test button
Easy to fit twist-on base
Manufactured in Ireland to ISO 9001:2000
Conforms to Heat: AS1603.3:2018; Module: AS/NZS4268

| | |
| --- | --- |
| Model Number: | EIB630IRF |
| Photoelectric: | |
| Heat: | |
| Ionisation: | |
| Carbon Monoxide: | |
| Mains Powered: | |
| Battery Back-up: | |
| Battery Powered: | 10-year Lithium battery (non-replaceable, non-removable) |
| Low Battery Warning Alert: | |
| Test/Reset Button: | |
| Interconnect Capability: | Hardwire interconnection (up to 12 interconnected devices). |
| Warranty: | 5 year (limited) warranty |
| Approvals: | AS1603.3:2018; AS/NZS4268 |
Related Information: