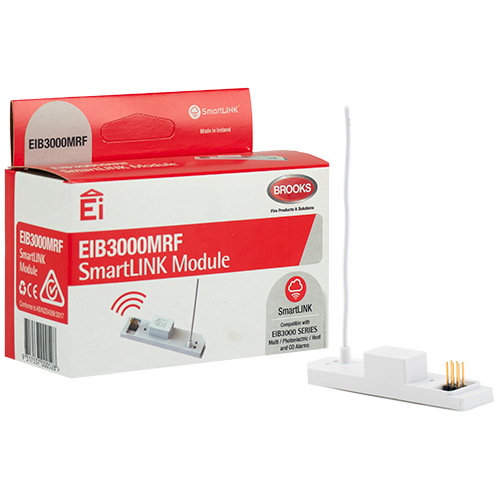 SmartLINK Module to suit 3000 Series
The EIB3000MRF is an optional add-on SmartLINK module for the EIB3000 series alarms.
EIB3000MRF
The EIB3000MRF enables the alarm to communicate wirelessly with other Brooks RF devices. Up to 12 devices can be interconnected. It also facilitates a hybrid communication of hardwired and wireless connections.
The module simply plugs into the designated slot in the base of the alarm head. On powering up the alarm, the RF LED on the side of the alarm will flash red, blue and green to indicate that the module has been fitted correctly.
The EIB3000MRF module is a short range device using a transceiver to transmit, receive and repeat the RadioLINKTM RF protocol. This ensures a robust "mesh" of RF signals and reliable paths of communication.
The house coding feature confines the RF communication to designated RF devices only, thereby avoiding the inadvertent activation of neighbouring alarm RF systems.
The Remote Alarm Learn entry feature allows the installer to re-activate the entire RF system house coding from one device. Additional devices can then be added and house coded accordingly.
The EIB3000MRF facilitates a monitoring (or buddy system) function that recognises system tampering or alarm head removal. In monitoring mode each alarm will check the presence of its strongest received RF signal.
The Brooks Wireless Interconnection Module has the following features:
RF upgrade for mains powered 3000 series alarms
Interconnect up to 12 devices wirelessly
Remote alarm learn entry
Transmits, receives and repeats RF specific data
RF mesh architecture
Unique house coding feature
Simple plug-in modular design
RF data download
Powered from the alarm head
5-year guarantee
| | |
| --- | --- |
| Model Number: | EIB3000MRF |
| Photoelectric: | |
| Heat: | |
| Ionisation: | |
| Carbon Monoxide: | |
| Mains Powered: | |
| Battery Back-up: | Powered through the alarm head |
| Battery Powered: | |
| Low Battery Warning Alert: | |
| Test/Reset Button: | |
| Interconnect Capability: | RadioLINK™ interconnection (up to 12 interconnected devices). |
| Warranty: | 5 year (limited) warranty |
| Approvals: | AS/NZS4268 |
Related Information: