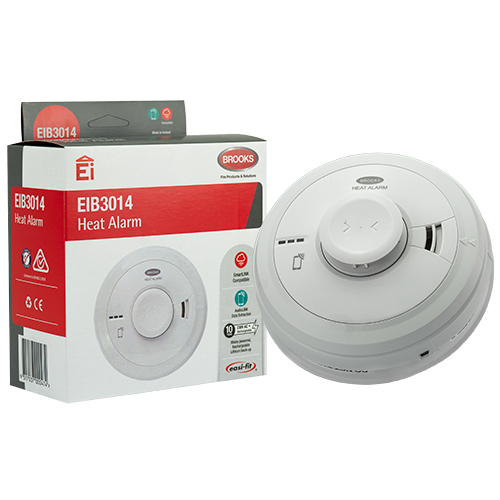 Heat 230-volt Alarm with 10-year lithium battery back-up
The EIB3014 is a Heat Alarm with 230-vol AC primary mains power supply and a non-removable, rechargeable lithium battery back-up designed to last for 10 years.
EIB3014
The EIB3014 is a Heat Alarm with Class A1 heat detection. It is ideal for rooms where smoke alarms cannot be installed without the risk of excessive nuisance alarms like the kitchen, garage, etc.
The EIB3014 can only be used as part of a fire detection system, ie. interconnected with Brooks mains powered Multi-Sensor or Smoke Alarms. It can be interconnected either by hard-wire or wirelessly (using the EIB3000MRF module). Up to 12 devices can be interconnected.
The AudioLINK feature facilitates acoustic download of the alarm parameters and status using the AudioLINK app.
The EIB3014 is powered by 230V AC mains. In the event of mains failure, the rechargeable 10-year built-in non-removable lithium battery will provide up to 3 months power supply in the case of a wireless RF installation or up to 6 months in any other case.
The EIB3014 self-checks its sensor, battery voltage and internal circuitry every 48 seconds. Any fault condition found will be indicated by a combination of yellow LED flashes and chirps.
The memory feature allows an alarm that has previously activated to be easily identified (through the red flashing LED).
The Brooks Heat Alarm has the following features:
Fast acting thermistor for Class A1 Heat detection
SmartLINK compatible
AudioLINK data download
Hardwire interconnect
Optional wireless interconnect (with EIB3000MRF module)
Easy to use large Test/Silence button
Memory function
Easi-fit base
Energy efficient and low power consumption
Conforms to AS1603.3:2018
5-year guarantee
| | |
| --- | --- |
| Model Number: | EIB3014 |
| Photoelectric: | |
| Heat: | |
| Ionisation: | |
| Carbon Monoxide: | |
| Mains Powered: | |
| Battery Back-up: | 10-year rechargeable non-removable lithium |
| Battery Powered: | |
| Low Battery Warning Alert: | |
| Test/Reset Button: | |
| Interconnect Capability: | Hardwire interconnection or wireless interconnection (using the EIB3000MRF module) |
| Warranty: | 5 year (limited) warranty |
| Approvals: | AS1603.3:2018 |
Related Information: