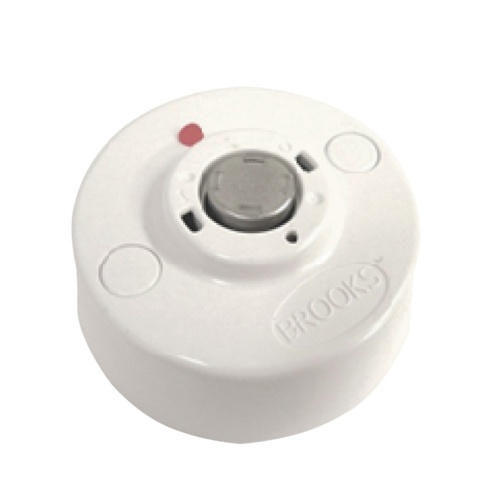 Roof Space Heat Switch
The Brooks HS series are temperature threshold switches designed to be mounted in roof cavities of buildings.
HS60V2 & HS80V2
The HS60V2 and HS80V2 will trigger at 60°C and 80°C respectively. A number of HS switches can easily be connected to a single RadioLINK™ input device by means of series interconnection (or daisy-chaining). The installation should be limited to a cable run length of 20M. The switches cater for both series and parallel wiring (all in a line or branches)
The HS heat detector switches are designed to interface to the Brooks EiB408RFH input device. The EiB408RFH will interface the heat switches with other RadioLINK™ capable alarms and modules. This will result in all smoke alarms in the property sounding should the ceiling cavity exceed one of the temperature thresholds due to a fire.
The Brooks Roof Space Heat Switches have the following features:
Two discrete temperature ranges available
Small and compact, easy to mount
Do not require a separate power supply
| | |
| --- | --- |
| Model Number: | HS60V2 & HS80V2 |
| Photoelectric: | |
| Heat: | |
| Ionisation: | |
| Carbon Monoxide: | |
| Mains Powered: | |
| Battery Back-up: | |
| Battery Powered: | |
| Low Battery Warning Alert: | |
| Test/Reset Button: | |
| Interconnect Capability: | |
| Warranty: | |
| Approvals: | |
Related Information: