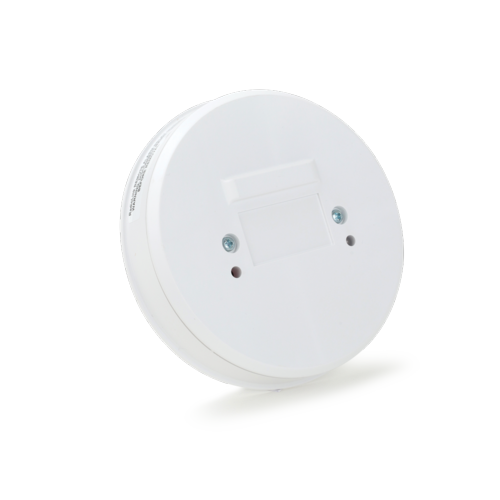 Wireless Relay Module with 10-year Lithium battery back-up
The EIB428RF RadioLINK™ Relay Module is a device that switches a relay upon receipt of a RadioLINK™ alarm signal from a compatible Brooks alarm.
EIB428RF
The potential free contacts can be used for many applications such as signalling, turning on lights, etc. The EIB428RF is designed to operate with all RadioLINK™ enabled products.
The EIB428RF RadioLINK™ Relay Module is powered by the 230-volt mains and has a non-removable, rechargeable, lithium back-up battery. The relay can be configured as a "latching" or "pulse" output via a removable link on the PCB. As supplied the relay operates in a "latching" mode (i.e. it switches when one of the smoke/heat alarms is triggered and only resets when the triggered alarm resets. When the dip switch is removed, the relay is configured in the "pulse" mode. The relay will initially change state when a connected alarm is triggered and will automatically switch back again after 5 seconds. This is commonly used with warden call systems where only momentary closed contact signal is required.
Up to 12 RadioLINK devices can be interconnected.
The Brooks Wireless Relay Module has the following features:
Mains Powered
RF range 100 metres (minimum) in free space
Green LED Mains Indicator Light
Uniquely coded to work with one system only
Low power battery warning in the event of a battery failure
Rechargeable lithium battery back-up
Wireless interconnect with up to 12 RadioLINK devices
| | |
| --- | --- |
| Model Number: | EIB428RF |
| Photoelectric: | |
| Heat: | |
| Ionisation: | |
| Carbon Monoxide: | |
| Mains Powered: | |
| Battery Back-up: | 10-year Lithium rechargeable, non-removable |
| Battery Powered: | |
| Low Battery Warning Alert: | |
| Test/Reset Button: | |
| Interconnect Capability: | Up to 12 RadioLINK devices can be interconnected |
| Warranty: | |
| Approvals: | |
Related Information: