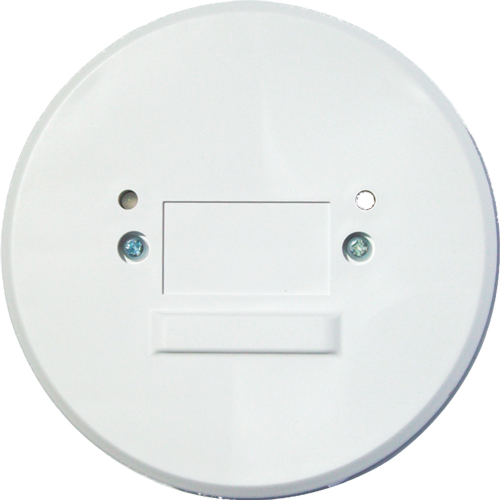 Wireless Repeater Module with 10-year Lithium battery back-up
The EIB420RF RadioLINK™ Repeater Module is a standalone repeater module designed for use with RadioLINK™ enabled alarms and accessories.
EIB420RF
The EIB420RF is mains powered and has a built-in tamper proof rechargeable lithium battery that acts as a battery back-up in the event of mains failure. The rechargeable lithium battery is designed to have a minimum 10-year life and outlast the life of the module itself.
The repeater module uses advanced transceiver and signal coding technology to ensure robust and reliable RF signalling.
The EIB420RF can be interconnected to either Brooks RadioLINK™ devices or hardwire interconnected to Brooks mains powered Smoke/Heat alarms. The repeater supports the hybrid functionality, i.e. hardwire and RadioLINK™ activate each other.
The Brooks Wireless Repeater Module has the following features:
Mains Powered with a 10-year rechargeable lithium battery back-up
Stand-alone unit designed for use with RadioLINK enabled alarms and accessories
Up to 12 alarms and devices can be interconnected
Visual RF transmission and power indicators
5-year guarantee
| | |
| --- | --- |
| Model Number: | EIB420RF |
| Photoelectric: | |
| Heat: | |
| Ionisation: | |
| Carbon Monoxide: | |
| Mains Powered: | |
| Battery Back-up: | 10-year Lithium rechargeable, non-removable |
| Battery Powered: | |
| Low Battery Warning Alert: | |
| Test/Reset Button: | |
| Interconnect Capability: | Up to 12 RadioLINK devices can be interconnected |
| Warranty: | 5-year guarantee |
| Approvals: | AS/NZ 4268 |
Related Information: