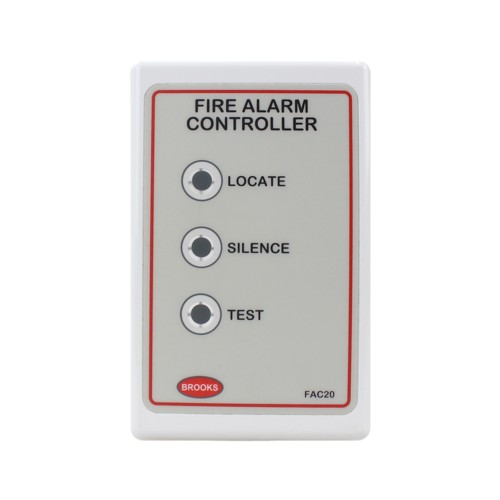 FAC20 - Locate /Silence /Test
Smoke Alarms are designed to detect smoke particles in the air. However other airborne particles i.e. steam, cooking fumes, dust, etc. can also cause smoke Alarms to generate false alarms. With interconnected smoke/heat/CO Alarms, when one Alarm senses Smoke / Heat / CO, all Alarms will sound. The FAC20 is a three button Alarm Controller intended to provide the occupant with a full control over a hardwired interconnected Alarm system.

Functions of Fire Alarm Controller buttons:
Locate: silences all Alarms in a hardwired interconnected residential alarm system except the Alarm sensing smoke, heat or CO.
Silence: following the identification of the alarm source, pressing the "Silence" button will silence only the active Alarm(s) in the system for 10 minutes same as the HUSH feature in the Smoke Alarm. New alarm from non-active Alarms will activate all Alarms including the one in silence mode.
Test: activates the sounders of all hardwired interconnected Alarms.
The FAC20 also provides an isolated supervised clean-contact input to trigger the sounders in all interconnected Alarms from external N/O contact e.g. sprinkler flow switch input, panic input, etc. wiring supervision is only for open circuit whilst short circuit will activate all the interconnected Alarms.

The FAC20 is not a battery backed device. It is not functional without mains voltage supply.
Up to 2 x FAC20 can be connected in the same interconnected Alarm circuit, provided all the Alarms are of EIB3000 series. For EIB140RC series and EIB160e series, only one controller can be used for each interconnected circuit.
Remote test, locate and silence hardwired interconnected Smoke / Heat / CO Alarms
Requires only 3 wires: Active, Neutral and interconnect. Use standard easi fit base.
Flush or surface mount
Supervised clean opto-isolated input contact to externally drive the interconnected alarms
Connected in a centralised location to any Alarm in the system, not required to be the first device in a circuit
Provided with PCB components cover, only plug-in terminals are accessible
Conforms to AS/NZS 62368.1:2018
| | |
| --- | --- |
| Model Number: | FAC20 |
| Photoelectric: | |
| Heat: | |
| Ionisation: | |
| Carbon Monoxide: | |
| Mains Powered: | |
| Battery Back-up: | |
| Battery Powered: | |
| Low Battery Warning Alert: | |
| Test/Reset Button: | |
| Interconnect Capability: | |
| Warranty: | |
| Approvals: | |
Related Information: