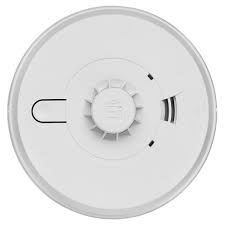 Heat (Thermal) 230-volt Alarm with 9-volt Alkaline battery back-up
The EIB144e is a Heat Alarm with 230V AC mains power supply with a replaceable, 9 volt, Alkaline battery back-up. The EIB144e is ideal for increasing alarm coverage to areas such as kitchens, laundries and garages.
EIB144e
The EIB144e is supplied with the Brooks Easi-fit™ base to facilitate quick and simple installation, combined with simple smoke alarm head removal and replacement. The Easi-fit™ base automatically connects both mains power and battery as the smoke alarm head slides on.
The EIB144e may operate as a standalone Alarm or may be interconnected to other Alarms via a wired or wireless system. For a wireless system, each Alarm must be fitted with an EIB168RC RadioLINK™ base. When interconnected, all alarms in the system will sound when any single alarm is triggered.
The Alarm is fitted with a Test / Silence button to facilitate frequent testing of your Alarm and System. The Silence function allows the Alarm / System to be silenced in the case of a false / nuisance alarm, e.g. steam or clothes dryer.
The EIB144e is fitted with a mains "power on" green LED indicator and red LED indicator for various conditions.
The memory feature allows an Alarm that has previously activated to be easily identified (the red LED flashes twice every minute for 24 hours).
The Brooks Heat Alarm has the following features:
Fast acting thermistor for Class A1 Heat detection
Hardwire interconnect
Wireless Interconnect when fitted with EiB168RC
Remote Test, Locate and Silence compatible
Easi-fit base
Easy to use large Test/Hush button
Memory feature
5 year guarantee
| | |
| --- | --- |
| Model Number: | EIB144e |
| Photoelectric: | |
| Heat: | |
| Ionisation: | |
| Carbon Monoxide: | |
| Mains Powered: | |
| Battery Back-up: | 9-volt Alkaline |
| Battery Powered: | |
| Low Battery Warning Alert: | |
| Test/Reset Button: | |
| Interconnect Capability: | Hardwire interconnection (up to 20 Units or Wireless interconnection 12 units via RF using the Ei168RC mounting plate |
| Warranty: | 5 year (limited) warranty |
| Approvals: | AS1603.3:2018 |
Related Information: