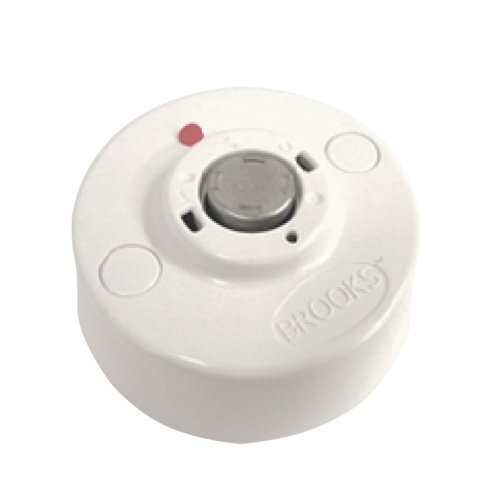 Roof Space Heat Switch Kit
The Brooks HSROOFKIT comprises of two HS80V2 heat switches, an EIB408RFH and 20M of cable (total cable run length).
HSROOFKIT
The EIB408RFH is designed to monitor circuits containing the Brooks HS roof cavity heat switch range of products. While an infinite number of heat switches can be monitored, for practical purposes Brooks recommends that the input cable length does not exceed 20M.
Should any of two connected heat switches activate, the EIB408RFH will activate the RadioLINK signal and trigger all alarms and connected accessories into an alarm state.
The EIB408RFH itself contains a temperature switch set to 60°C and is designed to be mounted on the underside of the ceiling space. The EIB408RFH includes a test button to test the heat switch circuit by simulating the triggering of a roof cavity heat switch. This is convenient for the home owner as it does not require access into the roof cavity to test the system functionality.
The Brooks HSROOFKIT has the following features:
Suits typical ANZ homes
Low battery power warning
Visual RF transmission and power indicator
Integrated Test Switch
| | |
| --- | --- |
| Model Number: | HSROOFKIT |
| Photoelectric: | |
| Heat: | |
| Ionisation: | |
| Carbon Monoxide: | |
| Mains Powered: | |
| Battery Back-up: | |
| Battery Powered: | 10-year Lithium non-replaceable, non-removable |
| Low Battery Warning Alert: | |
| Test/Reset Button: | |
| Interconnect Capability: | Wireless interconnection |
| Warranty: | 5 year (limited) warranty |
| Approvals: | |